Welcome to Cleveland, Ohio's ORIGINAL private gaming room… THE RUSTY DRAGON INN!
Originally built as a "speakeasy," THE RUSTY DRAGON INN was the perfect place to hide and play for those that did not want their hobbies known to friends and family.  Buried deep in the bowels of an office building and disguised as a mail room, it was a popular place for the distinguished members of society to satisfy their primal gaming and role-playings needs.  Now that all gaming has become mainstream, we have decided to remove the locks and forget the secret knocks, opening this room up to the public!
Okay… we made up that first part, but THE RUSTY DRAGON INN is still the best gaming room around.  This room can now be rented for your private gaming session(s). Some of the more prominent features include: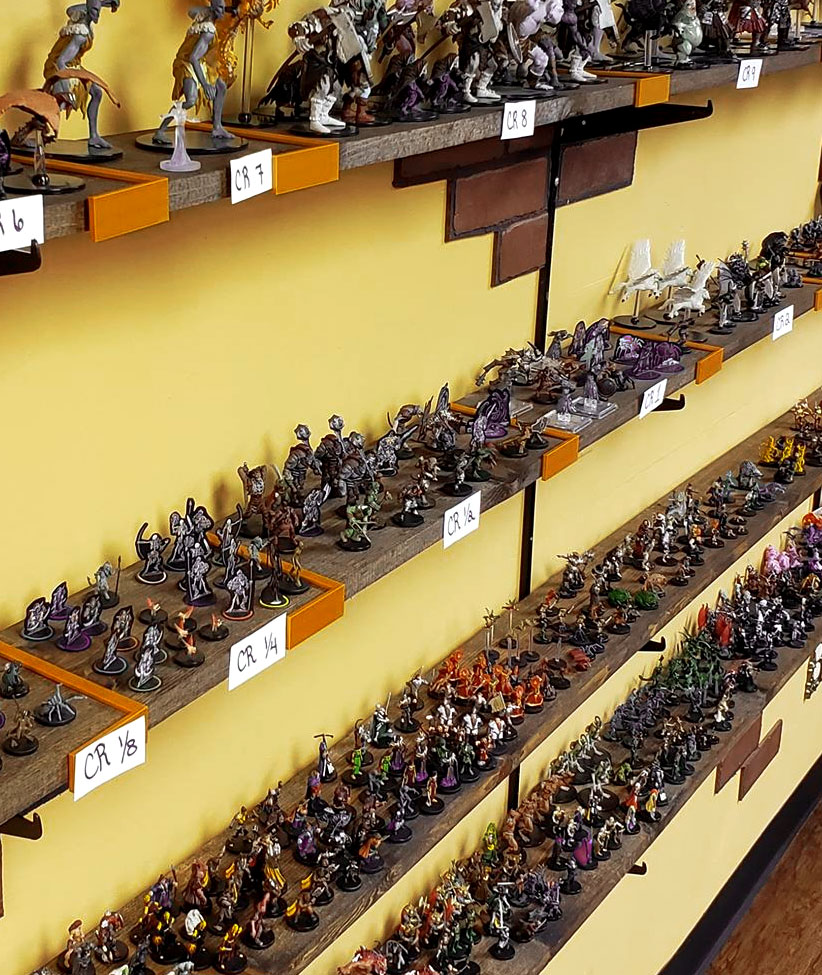 Rusty Dragon Inn Amenities
A spacious area of nearly 400 sq. ft. The room itself lends to the feeling of sitting in the tavern waiting for your next dungeon crawl.  There is a simulated wood floor, brick decor, maps and gaming related art and posters, wood furniture and ample lighting.
A 4' x 6' TABLE OF ULTIMATE GAMING custom designed for maximum enjoyment of your hobby.  The table is wood with amenities such as cup holder, DM screen and in-table electricity for outlets and hubs.  The table has a large flat black surface or 4 removable plates that allows for a subtable with a green mat for contained or miniature/board gaming.  The table can seat up to 10 players for maximum enjoyment.
A HUGE selection of D&D or PATHFINDER miniatures for use during the gaming sessions.  All miniatures are broken down into Challenge Ratings using the D&D 5e system.
And lastly… did we say private?  This gaming area is completely separate and closed off from the rest of our store or gaming area.  If you schedule a gaming block, then you will be left alone to enjoy your time.
Available for All Your Gaming Needs
If you are looking for a place to enjoy your role-playing game in a tavern like setting, want to play an uninterrupted Warhammer 40K game or spend a few hours with friends and family trying out a new board game, THE RUSTY DRAGON INN  is the place for you.
Cost of the room is $25 for a 4 hour blocks.  Blocks run daily from Noon to 4pm and 5pm to 9pm.  Special rates of $50 for Noon to 9pm are also available.  Please message, call or come in and talk to staff to check for availability and rules.
Hope to see you soon!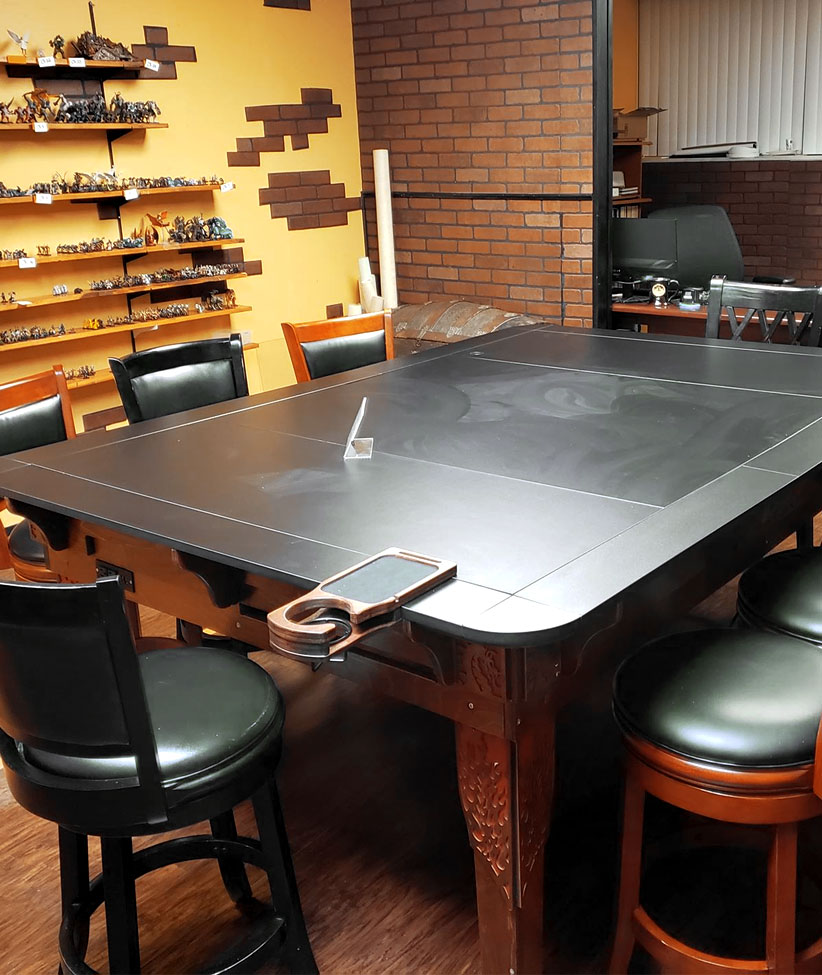 A TV that can be hooked up to directly or indirectly to display maps, pictures or other mood enhancing media.
A small refrigerator to keep your beverage or snacks cold and ready for longer games.
Gaming mats that can be used with dry or wet erase products.
A small private work area where game masters can confer with a player or players can work on private plans of their own.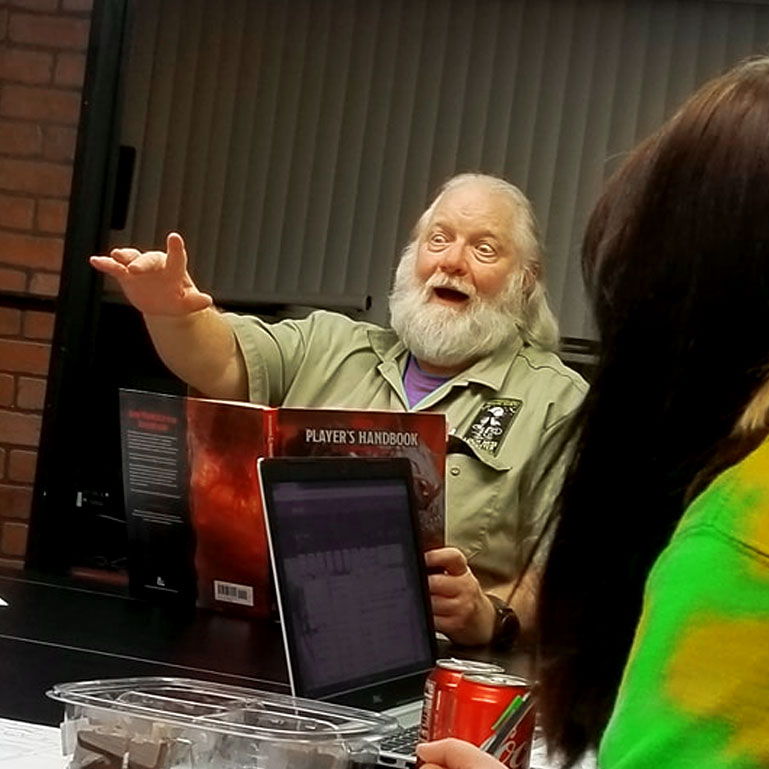 Rusty Littell
Dungeon Master
The table is big enough for large maps and has 2 levels so you can set up multiple maps. I use the TV on the wall to show maps, images and play background music. Best of all, the room offers privacy for the group without competing noise and distractions.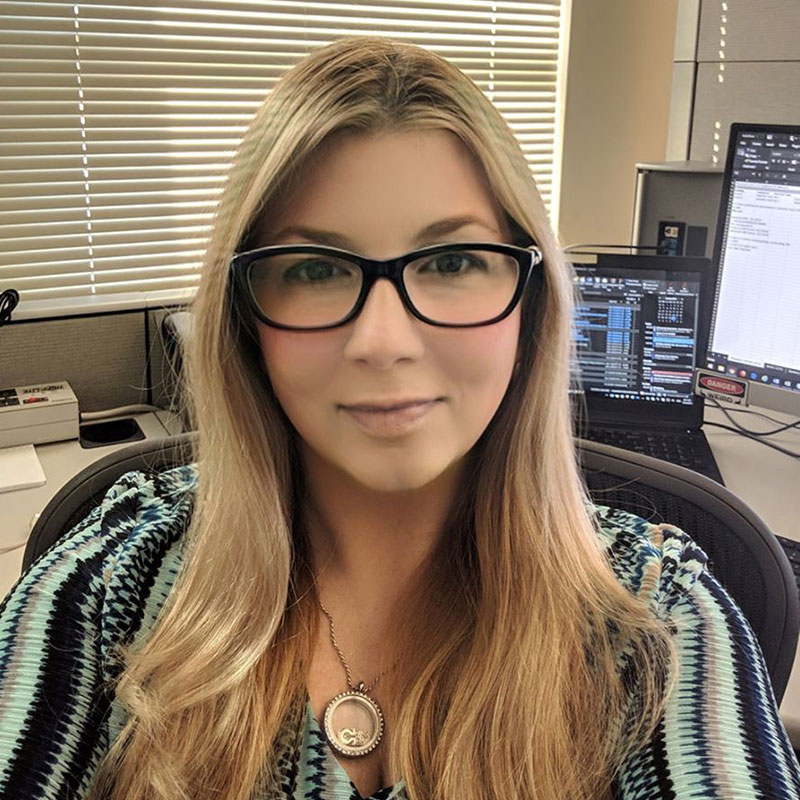 Lora Shanks
Dungeon Master
I can't imagine not renting this room for all my games! The room's side wall is filled with minis top to bottom. I also don't have the best "inside voice." So this room is perfect for us loud GMs as we don't need to  be as careful about what we say, or how loud we might be. Seriously, I can't live without this room.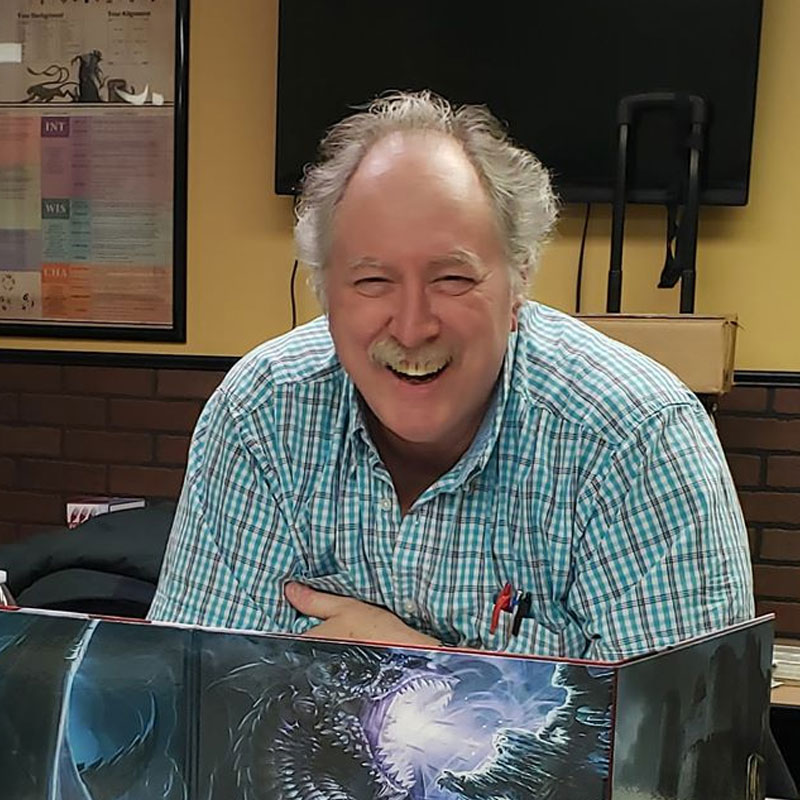 George Harpster
Dungeon Master
My group finds the private game room to be well worth the cost, especially when there are so many other games going on in the open areas. If you are interested in renting the private game room, talk to the staff. But, you can't have Wednesday nights… I'm using it, then.